For your memorable travel and wishes we offer a variety of facilities.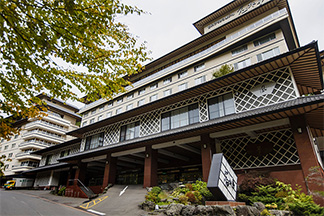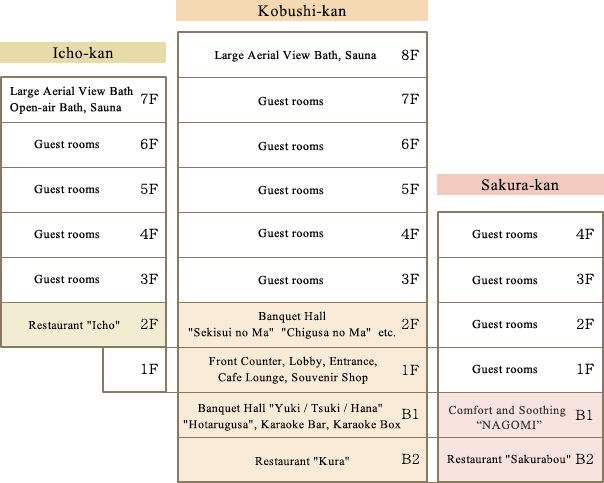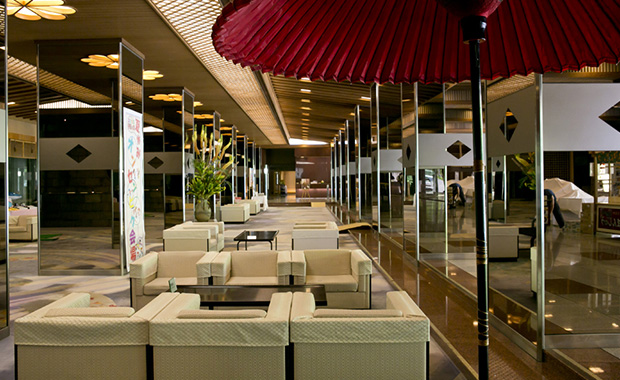 With solid granite arranged at every turn, the lobby is spread out to allow you to feel lose and at ease in a very spacious atmosphere. A crisp, clear waterfall sound produces a refreshing feel, as an enormous 28 meter glass panel automatically opens and closes before you.
※Smoking is prohibited in the lobby, however please feel free to use the smoking space provided near the entrance.
Complimentary Wi-Fi is available in the lobby and all rooms.

Wi-Fi can be connected to a personal wireless LAN laptop / smartphone for free. By turning on the Wi-Fi signal via your settings, it will be connected automatically. However, there are instances in which some models are incompatible and therefore may not be possible to be connected. Thank you for your advance notice and consideration.
Just after arriving to Sekisuitei, or following a look around the building, come by to enjoy a hot cup of coffee. Admiring the views of each of the four seasons of Noboribetsu is particularly exceptional.

【Open Hours】

16:00 – 21:00 / 7:00 – 10:00

【Menu】

Blended coffee : 550 yen (500 yen w/o tax)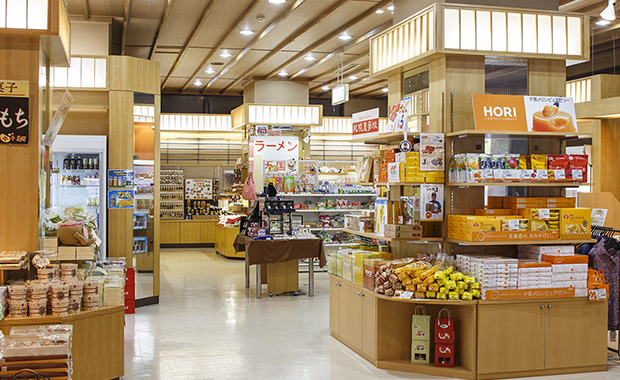 We offer a number of Hokkaido goods such as crab and salmon, also including snacks and items that are limited to Noboribetsu.
Moreover, you are able to purchase drinks, snacks, and other everyday amenities from the convenience store within.
【Open Hours】

16:00 – 22:00 / 7:00 – 10:00
About preparation for younger children

【Baby Food】

Baby food is not sold in our shop.

【Disposable diapers・Baby wipes】

These goods are sold in our shop.

Dining space designed for variety of occasions

A variety of freshly made dishes buffet
Our lively open kitchen concept lets you watch as cuisine is prepared by the chef right before your eyes. As food is prepared fresh and hot, you are sure to savor our menu which essentially keeps to seasonal ingredients that are locally grown.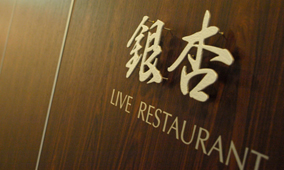 Beautiful Japanese-style cuisine hideaway
The dining area creates a hideaway atmosphere, nestled in traditional Japanese style.。
In the space of the semi-private room only some of the tables provided are full-standing (Western- style) tables, so please let us know if you would prefer such. Please note that reservations are limited to 11 per day.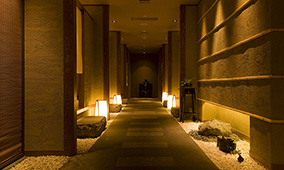 This is a restaurant where you can enjoy steamed Hokkaido meats and vegetables.
The clear water garden brings you about an elegance in the atmosphere. Original Japanese and Western menu spread across a wide buffet.
Be sure to take off your shoes firstly before entering the dining area, and enjoy your meal with natural comfort.
In the space of the semi-private room and a large hall some of the tables provided , so please let us know if you would prefer such.
Reservations are limited to 20 groups per day.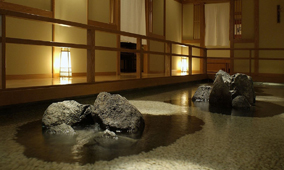 "Sekisui no Ma" is designed for an important banquet time. This chic Japanese-style party hall is made up in splendor, devoting 428 square meters of space. Moreover, this banquet space can be prepared to fit various kinds of you use to fit your needs.
【Kobushi-Kan 2F】

Sekisui no Ma 428 square meters (plus stage) Partition is possible
Chigusa no Ma 220 square meters Partition is possible
Wakana / Yamabuki / Momiji / Hanatachibana 30squaremeters(4rooms)

【Kobushi-Kan B1F】

Setsugetsuka 244 square meters (plus stage) Partition is possible

After having a steaming hot soak, do some light drinking of "local sake", enjoying local food menu that Noboribetsu is famous for including ramen noodles named "Jigoku Noodles" which has become popular with guests.
【Open Hours】

19:00 – 23:30(Last order)
12 a.m. midnight closing time
【Capacity】

40 people

A spacious hall that accommodates up to 50 people with 5 VIP rooms.
Private rooms are recommended for those adults who would like to enjoy their drinks in an atmosphere to themselves.
【Open Hours】

20:00 – 24:00(Last order is by 23:30) Karaoke Box 16:00 – 23:30 (Drinks may be order from 18:00)
【Capacity】

The hall can accommodate up to 50 people.
15 people per room
【Price】

90 minutes : 2,200 yen (2,000 yen w/o tax)

Fun karaoke time.
Whether with family or companion, come and enjoy together.
【Open Hours】

18:00 – 24:00
【Capacity】

3 available rooms : 5 persons per room maximum
【Price】

1 hour : 550 yen (500 yen w/o tax)
【Equipment Model】

DAM Server