Comfort and Soothing "NAGOMI" space is a wonderful Japanese-style resort environment, providing relaxation and refreshment of body and mind.
With aromatherapy aesthetics, hot stone sauna and private bath.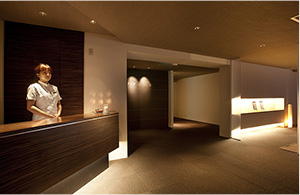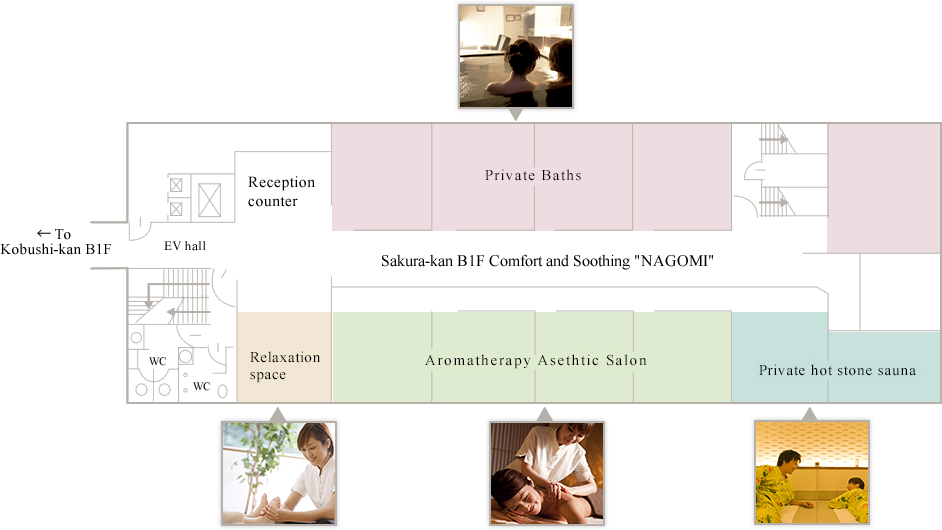 Private Baths
Relaxation
Aromatherapy Asethtic Salon
Private hot stone sauna

While comfortably taking in views of the bountiful nature, enjoy the private baths freely.
Since this facility first came to open, it has become especially popular with families and couples alike.
Our clean and spacious rest and relaxation room is also very high appreciated by guests.
5 Rooms
【Fee】

50 minutes / room
3,300 yen (3000 yen w/o tax)
【Open Hours】

15:00 – 23:00

Try a private hot stone sauna, which activates basal metabolism and release wasteful discharge through sweat, allowing you to be able to refresh and relax deeply.

※For adult use only
2 Rooms (Up to 2 persons per room)
【Fee】

50 minutes / room
3,300 yen (3,000 yen w/o tax)
【Open Hours】

15:00 – 23:00

Absorb deep relaxation with a full-body massage including the main pressure points of the feet, head, neck, and hands by Shiatsu deep tissue method.
You will be able to remove the harmful effects of stress.
In turn, promoting a "natural healing ability" within and through the body, which leads to a rebalancing and return to your body's original balanced form.
This massage is most effective after bathing as it further increases full body impurity and stress release and gives the utmost relaxation.
【Effect and Benefit】
Stimulates healthy blood circulation
Promotes the detoxification process
Increases energy
Creates health and helps to prevent against disease
【Open Hours】
 14:30 – 22:30

【Aromatherapy Aesthetic Salon】
Using essential oils of natural elements such as those of flowers, leaves, and fruits, we offer massages with aromatic scent and deep soothing.
With our aim of improving beauty and health, let yourself be immersed in "the utmost comfort and healing time".
In conjunction with onsen bathing, you can expect a significant increase in beauty and health.
【Effect and Benefit】
This fragrant aromatherapy encourages healthy blood flow nourishes the skin leading to shiny complexion.
Activating your metabolism and the detoxification process, as well as lymph, you can look forward to relief from swelling and pain, and the release of tiredness and muscle tensions.
【Open Hours】
 14:30 – 22:30