Muroran Aquarium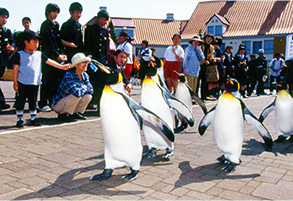 Opened in 1953, this aquarium is has a rich history.
It offers one of the most unique displays of jellyfish floating in vivid light, creating an environment of fantasy. Especially marked is the outdoor parade event featuring the Humboldt penguin with 2 shows daily at 11:00 and 15:00. Enjoy the gallant walk of these cute penguins.
Dolphin ・Whale Watching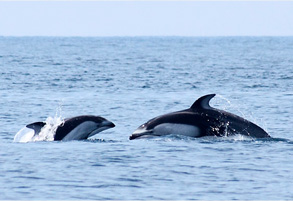 The harbour of the Muroran Peninsula, at Funka Bay, is a beautiful ocean side where you are able to come in contact with whales, dolphins and seabirds throughout the year. From May to August, you can take a boat ride for viewing. Taking in the wonderfully shaped rocks and cliffs from the sea, you can catch a glimpse of the area's sea life.
Night Cruising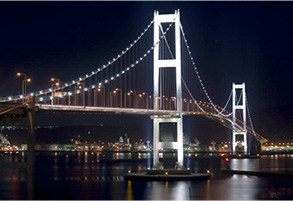 This night cruising offers you the change to enjoy the various points and aspects of Muroran's night view. The cruiser goes around the inside of Muroran Harbor. Seeing the illuminated Hakucho Bridge from below, this spot is attractive as well as refreshing as you glide along with the waves.
Night View of the Factory Zone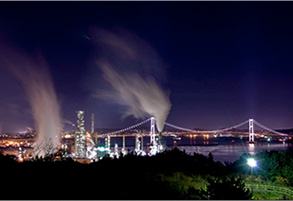 This port, surrounded on three sides by the ocean, first opened in 1872 and has been largely utilized for the freight of coal, the steel industry, shipbuilding, as well as oil refining. The lights of the area's factories and Eastern Japan's largest suspension bridge produce the fantastic night light up of Muroran Port.
Cape Chikyu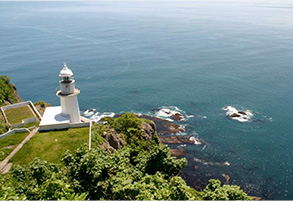 In the "Top 100 Beautiful Nature Spots of Hokkaido" and selected as first place in "Your Choice in Hokkaido". On clear sunny days, you can see the full view of Cape Chikyu and Shimokita Peninsula, feeling the full circle of the Earth. Many people gather here to watch the first sunrise of each New Year's Day.
Mt. Sokuryo Observatory Deck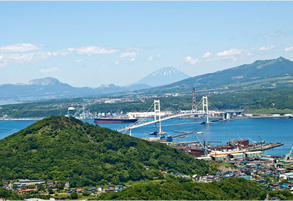 Mt. Sokuryo Observatory Deck, on the summit of Mt. Sokuryo (199.6 m high) is one of the most spectacular spots to see wonderful panoramas of Muroran. On clear and sunny days, you can view Mt. Yotei in the background of Muroran Hakucho Bridge and the factories. This location is one of the most spectacular places for night view of Muroran, with local factories and the Hakucho Bridge in Muroran Port beautifully illuminated.