Embrace the scenery with your choice of dining style.
Upon the fortune of Hokkaido's freshness, and by the highest grade in meal preparation, you can enjoy the abundance and grace of nature.

Providing extravagant hospitality
Seasonal Japanese-style meal made from Hokkaido's finest ingredients
Enjoy a beautiful Japanese KAISEKI in hideaway atmosphere dining area.
Soft paper-lantern lighting in a comfortable, wide private space.
Sekisuitei's Restaurant "KURA" offering meals of the highest quality.
Reservations are limited to 11 per day for this precious dining experience.
This course menu is created with select Hokkaido ingredients, including from our own farm-grown vegetables and fresh seafood, as well Noboribetsu beef.
Depending on the seasonal menu, there are times when contents may change.
The photograph serves as an image.
As a matter of seating convenience in the dining area, please inquire to the hotel in advance for the case of groups more than 5 people.
Please note that this restaurant only allows children who are 7 years of age or older.
Smoking is prohibited throughout the restaurant.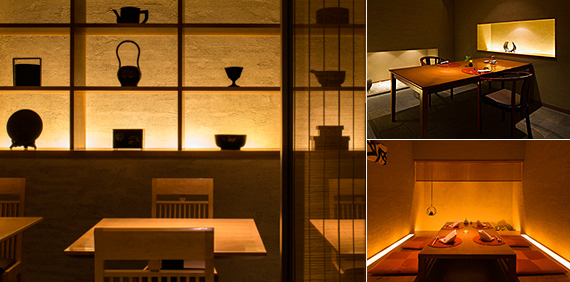 The dining area creates a hideaway atmosphere, nestled in traditional Japanese style.
In the space of the semi-private room only some of the tables provided are full-standing (Western-style) tables, so please let us know if you would prefer such. Please note that reservations are limited to 11 per day.
About food allergies

Concerning matters of food allergies, please contact us.